After Google Opinion Rewards app's success where users where credited for their contributions in terms of answers and surveys, Google's next 'pay for tasks' app, Task Mate is in 'early access' in India. Users can earn a small amount of money for every task performed. The tasks range from transcribing sentences to checking shop details. Google Task Mate is in the 'early access' phase with invite only usage.
In this phase, Google's Task Mate will be given access to 'early testers' of the app through a referral code system. Task Mate enables the users to discover tasks nearby, complete a mundane task and earn some money out of it. The amount of money earned will be accumulated in a e-wallet and can withdrawn through an in-app payment partner.
Google terms these tasks as 'simple tasks' which are offered by several establishments across the world. The simple tasks are classified as 'Sitting' or 'Field Tasks', taking a couple of minutes to complete it.
Types of Tasks to Earn Money In Google Task Mate
Task Mate lists the following tasks in its app under the Sitting Tasks and Field Tasks and the amount of money offered to each of these tasks and the number of tasks under each task is also listed. The list of tasks to earn money on Google's Task Mate are as follows: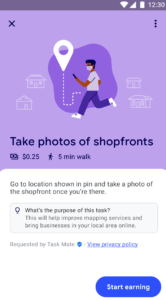 Capture Photo Of Shop Fronts
Check Shop Details
Record The Sentences Shown In App
Answer survey questions about your preferences
Translate sentences from English to your local language
Record Spoken Sentences
Transcribe Sentences
Google Task Mate Invitation Code For Free – How To Get Referral for Invitation Code?
Task Mate is in its early access stage and hence it is available for limited 'testers' or users. This is facilitated by Task Mate with a Referral Invitation Code system. Each invitation code or referral code has a limit of three users and hence, every registered user will be able to generate the code for three other users.
How Will Users Get Paid in Google Task Mate?
Users will get paid in their local currency for every successfully completed task. There are variety of tasks including clicking an image of shop to answering questions to transcribing content to English and vice versa. Users have to link their account with third party payment aggregators. Users can register for an e-wallet and account details. In the profile page of the user, there is an option for 'cash out' which the user can use to withdraw their money credited for the completed tasks.
Google Task Mate Referral Code – Which are the Legitimate Sources for Getting the Code for Task Mate?
There are multiple threads on Reddit pointing to genuine referral codes for Task Mate. However, it is not recommended to acquire invitation codes for Google's Task Mate through illegitimate means. Google Task Mate Referral code is also shared on several web portals and tech forums.